Thank you for visiting our site and for considering adopting a rescue pet! Sorry, we do not have any available space to take in cats or kittens at this time. Please contact your local animal rescue groups or shelter.
Featured Pet!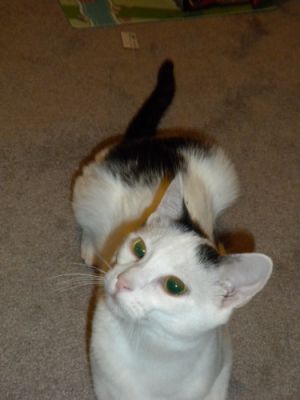 Domestic Short Hair-black and white
Up-to-date with routine shots
Spayed/Neutered
SERIOUS INQUIRIES ONLY PLEASE! MUST be an only cat! Suki was found with her brother Hero in a bush on father's day (6-21-09) by a German Shepherd who actually brought them one at a time to its owner. The mother cat had abandoned them for whatever reason and these babies were in serious need of help, dehydrated and malnourished. Best guess they were only about 10 days old, as they were just opening their eyes. They were bottle fed and nurtured like babies. Suki is very special and loves human contact (playing, sleeping, petting, grooming). In fact, they crave human companionship. Fine with kids, but she is definitely an alpha female and prefers to rule the house. If you are looking for a lover, you won't be disappointed! Please call 216-5419 to set up a time to meet Suki. UPDATE: Suki had a home for nearly a year, the owner said she was a great cat, but was just returned because the owner had a baby and said she no longer has the time or desire to take care of her anymore. Suki is now very sad. It is because of this that I ask SERIOUS INQUIRIES ONLY PLEASE!!! UPDATE 2: Suki was adopted again, but her owner moved to a facility that does not allow pets and we took her back in. She is in desperate need of a home to someone who will be a stable home with her as their only cat. She LOVES humans and despises other animals. She will snuggle and curl upside down in your lap and purr, purr, purr!
Adult, Female, Medium